Looking for a great way to get a jump start on fall creative projects?  Check out the Envato Birthday Bundle!
Envato is an online marketplace that has everything from WordPress templates and themes, to poster and business card designs, to Adobe After Effects templates, Code plugins, and of course, Royalty Free Music.  Stock music and stock templates are all available for a very reasonable price!
Envato is turning 7 years old, and they are celebrating with a Bundle of files for only $20  (a $500 value)
Click the pic to check it out!!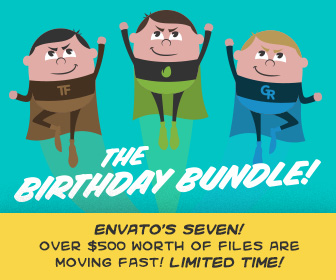 Sometimes you are on a deadline, sometimes you just need to move fast.  Stock files and templates are a great way to do that!  Small businesses can benefit from the professional quality of items available on the Envato marketplaces.  Tumblr themes, pro business cards, event promo posters, wordpress websites, online e-commerce ideas, videos.   Need a corporate style training video on the cheap?? buy a videohive theme, populate it with your pics and ideas, add some great music and you're done!  Are you a bar or restaurant that features live music or food events? check out the posters and flyers available to promote!!  Promotion, promotion, and marketing!!